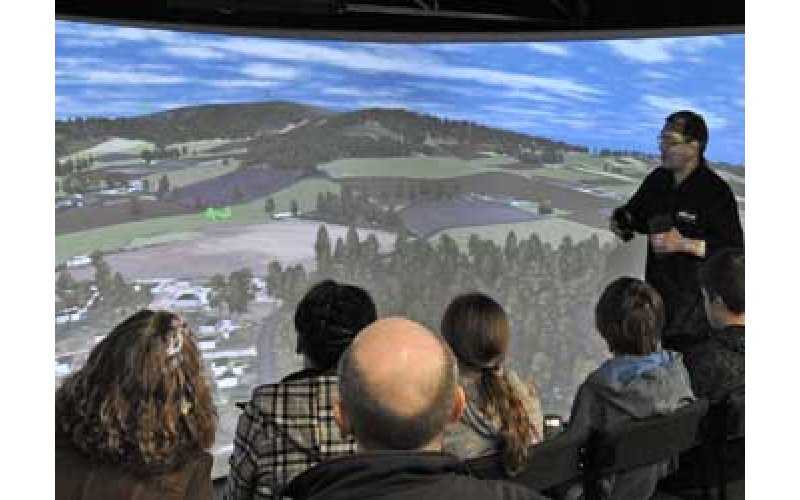 The James Hutton Institute
In the 1890s, Scottish biologist and urban reformer Patrick Geddes developed an exhibition center he called the "Outlook Tower" inside an old building in Edinburgh. There, the public was invited to view detailed renderings and data on the regional landscape, including a rooftop camera obscura that took in a panoramic view of the surroundings.
Researchers in Scotland have revisited this idea with immersive media. The "Virtual Landscape Theatre", developed at the James Hutton Institute in Aberdeen, is a scaled-down, mobile version of the Outlook Tower. The curved-screen projection facility allows people to "explore computer models of their environment to explore landscapes of the past, present and future" and has been used with communities throughout the UK. "Small groups have the opportunity to experience landscapes by moving through the virtual world, add new content, view realistic representations, or augmented with other information such as flood risk, natural heritage designations, wind speed, land ownership, or soil type – and they can provide feedback by means of a voting handset." This points towards a future where planning consultations routinely take on a more shared virtual reality experience.
Source:

hutton.ac.uk
Sector
GovTech
Built Environment & Real Estate
Tags
UK
civic engagment
planning
VR/AR
digital community